September 29, 2020, 09:06am CST
Advanced driver assistance technology (ADAS) has become increasingly popular in the motor vehicle industry as a larger number of vehicles come equipped with these systems. The demonstrated value of features like blind spot and forward collision warnings as well as the affordability of sensors and improved safety rating systems has led to a larger penetration rate of driver assistance systems in the market.
Today, the top five leading automotive and trucking OEMs rely on radar sensors for blind spot detection. Compared to other sensor technologies, radar sensors are more robust and better suited for use in challenging weather conditions including bright sunlight, dust, fog, frost, rain, and snow.
While cameras offer a useful visual display of a vehicle's surroundings, solely relying on them for driver assistance has disadvantages. The two greatest shortcomings of cameras are:
      1. Environmental conditions can hinder camera performance and image quality.
      2. Varying lighting conditions can make it difficult to detect non-illuminated objects.
Consider the scenario visualized below. While driving on the highway with low visibility due to snow and fog, effective blind spot detection becomes critical. Cameras have difficulty detecting objects under these conditions, making radar or camera/radar fusion systems more reliable in this setting.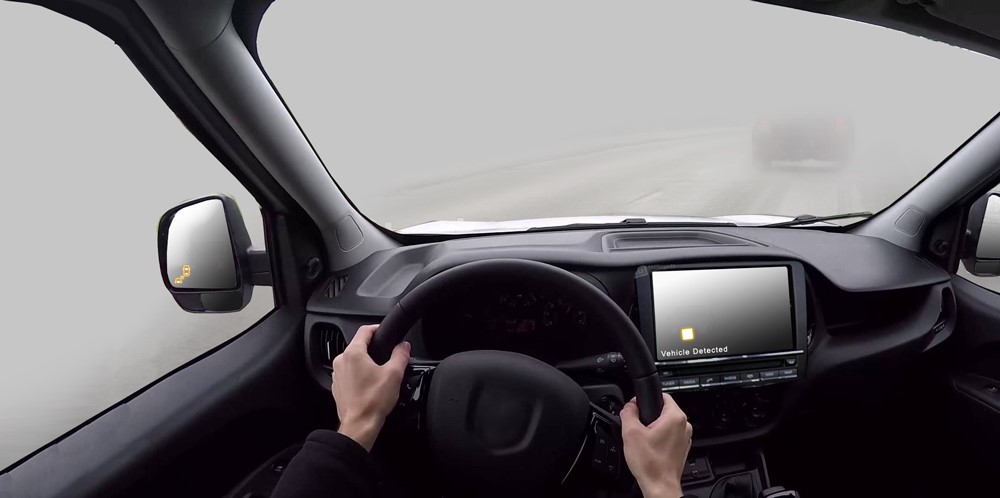 Radar Blindspot Detection in Low-Visibility Weather Conditions
Summary and Looking Forward
Advanced driver assistance systems have been adopted by many major automotive and specialty vehicle OEMs and will likely become the norm in coming years. Radar sensors remain a reliable, durable solution for blind spot detection and forward collision warnings due to the fact that they perform better than other sensors in the challenging conditions when drivers need assistance most.